Rick Hammers' fourth-floor office at Menard USA's corporate office is a veritable beehive of activity. It is not uncommon to see a phone in his left ear, two hands on a keyboard and 2-3 employees awaiting a chat. Such is life for a man who serves as Menard's Chief Financial Officer, Chief Operating Officer and accounting and human resources director.
Say that three times fast.
"He juggles those jobs — and he's great at all of them," says Menard CEO Seth Pearlman, who had the vision to promote Hammers to CFO in 2005. "He's a wizard, or maybe you can call him a savant."
You can also call Hammers 2021 CFO of the Year, as selected by the Pittsburgh Business Times, a publication that reaches more than 70,000 business executives. On Nov. 10 at the Westin Downtown, Hammers was joined by family, friends and colleagues at a ceremony honoring him and other CFOs in the Pittsburgh region.
An outgoing sort with a disarming personality ("Form a line if you want to see me," he says, flashing a grin at waiting colleagues), Hammers blends humor with a get-it-done approach. He leads 300 employees, 200 full-time, in 14 offices around the US. He is Menard's Bridge to Everywhere.
"Rick can relate to everyone – senior management, engineers, field employees," says Pearlman.
Hired in 2003, Hammers has seen Menard — an international specialty ground improvement construction contractor headquartered in Carnegie, Pa. — grow from a $5 million company with 18 employees in 2005 to a projected $140 million company in 2021. In 2019 and 2020, Menard generated $92 million and $122 million, respectively. Pearlman said Hammers' appointment to COO three years ago — which coincided with a decision to de-centralize and regionalize the firm's operational management structure – was pivotal in reigniting Menard after sales dipped from $90 million in 2015 to $52 million in 2018. Menard is averaging $118 million annually since Hammers' appointment to COO.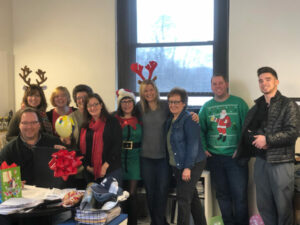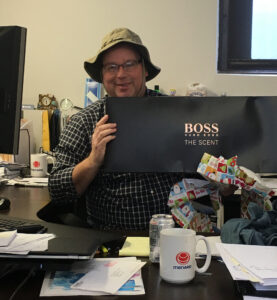 Accounting, Admin and HR staff enjoy celebrating Rick's birthday and Boss's Day every year! He is always a good sport!
"When we reorganized, that was a big deal," Hammers says.
To gain additional insight into Hammers' formula for success, it is instructive to note that his favorite book is "Moneyball: The Art of Winning an Unfair Game." The subject is the Oakland Athletics baseball team and its general manager Billy Beane. The tome focuses on the team's analytical, evidence-based, sabermetric approach to assembling a competitive baseball team despite Oakland's small budget. The A's would go on to mega-success by outmaneuvering big-money teams that used outdated and flawed methods – according to Beane. Similar to the A's, Hammers is open to innovative and outside-the-box concepts.
"I'm not the best financial guy by any means," Hammers told the Pittsburgh Business Times in an article leading up to his CFO of the Year nod. "There are people who are better in a financial role than I am."
Pearlman and others would beg to differ. Hammers, though, defaults to a down-home humility forged on the family farm in tiny Cameron, W.Va (population 946). It was there where he cut down trees, repaired old barns and cleared out seemingly never-ending fields. And, while none of this earned him a degree in business administration (that would come later at West Virginia University), it landed him a PhD – Perseverance, Humility, Dedication – in life skills. And for the past 18 years, Menard employees have been the beneficiaries.
Take, for example, the Menard accounting and HR departments. The turnover rate is zero. ZEE-RO.
"He's a connector who people gravitate to; they'll do anything for Rick," Pearlman says.
A graduate of West Virginia University who resides in Cecil, Pa., Hammers and wife Lisa are parents to daughter Emily (27) and sons Alex (24), a Menard employee, and Ben (21). He proudly states the family's annual beach vacation remains a hit, all these years later. "Yes, my kids still go with the parents, so we raised them right." Around his vacations, Hammers served as a youth athletics coach (recently retired) and donates time to charities such as the Ewing Sarcoma foundation.
A hunter and fisherman, Hammers' No. 1 hobby is West Virginia University football and basketball. His colleagues know this well. Try being a Pitt fan the day after a loss to the Mountaineers. Inexplicably, Hammers' once-busy schedule loosens up.
"Come on in," Hammers says. "I always have time for you. So … what's new?" Hammers smiles. Ditto for the colleague. After all, Hammers is a connector. And he's a worthy honoree as 2021 PBT CFO of the Year.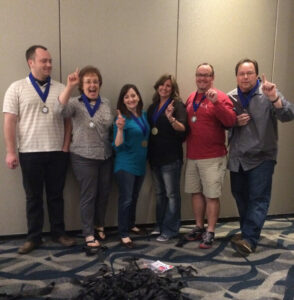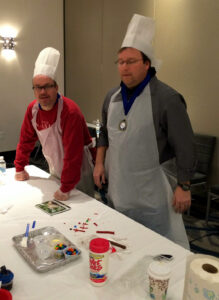 Team building baking challenge and the winning team!
HAMMERS TIME: FACTOIDS
Education: B.S., business administration, West Virginia University
Grew up in Wheeling, spending a lot of time on the family farm in the tiny town of Cameron, W.Va., where he learned the value of a strong work ethic
Rick and wife Lisa are parents to three adult children, 2 pugs and a kitten
Rick's first job was working during the summers in the maintenance department for Ohio County Schools in Wheeling, WV
A proud West Virginia University football and basketball supporter (a source of office banter)
Hired by Menard in 2003
Instrumental in initiating diversity programs and improving hiring practices at Menard
Created a charitable giving program at Menard that includes a yearly company donation/sponsorship to non-profit organizations of employees' choice.
Retired as a long-time youth athletics coach where he still resides in the Cecil/Canonsburg, PA area.
Favorite pastimes include spending time with family, beach vacations golfing, and hunting (with his dad and children).