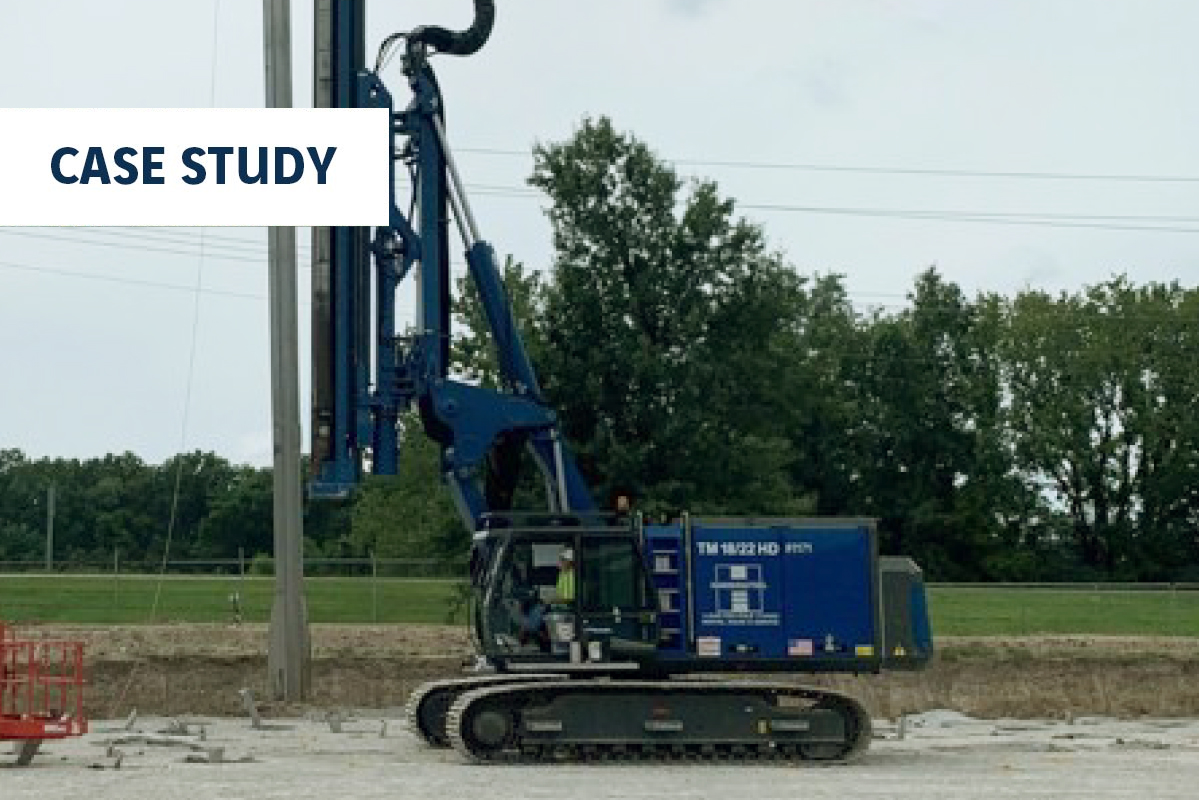 O'Fallon Wastewater Treatment Plant
Project Details:
Owner: City of O'Fallon
General Contractor: River City Construction
Duration of Work: 4 weeks
Subsurface Conditions: 3 ft of existing fill over 15 ft of loose silty sand/sandy silt underlain by a hard gravel layer.
Approximate Key Quantities: 646 Controlled Modulus Column (CMC)® Rigid Inclusions and 1,342 earthquake drains
Project Overview:
Operated by the city's Water and Sewer Department, the sewer system in O'Fallon, MO, includes a vast collection system and full scale, state-of-the-art regional wastewater treatment plant with a capacity of 15 million gallons per day. It is complete with three equalization basins, a Class A bio-solids dewatering and handling facility, 17 wastewater pumping stations and large capacity interceptor sewers ranging up to 48 in in diameter. The collection system consists of more than 200 miles of interceptor and collector lines with a little more than 6,000 manholes.
Originally constructed in 1984, the O'Fallon Wastewater Treatment Plant was to undergo upgrades and additions in 2020. Included in the proposal was the construction of a new, 48,675 sq-ft Biological Nutrient Removal (BNR) Tank, a 407 sq-ft Splitter box, a new High Flow Discharge Pump Station, a new blower building, and upgrades to the existing clarification process. Other proposed updates would include: Ancillary site piping to tie the new systems into the overall treatment train; a new cascade aerator; improvements to the plant outfall. Menard USA was contracted to provide ground improvement to support the construction of the BNR Tank and a Splitter box situated on compressible and liquefiable layers. The selected techniques were Controlled Modulus Column (CMC)® rigid inclusions and earthquake (EQ) drains.
Ground Conditions:
The site consists of a soft clay layer which extend to depths of up to 35 ft below the ground surface — this layer was compressible and was prone to static settlement issues. The underlying sand layers were potentially liquefiable to depths of 42 ft. The combination of static and seismic settlement could potentially adversely impact the tank's and Splitter box's foundations. The owner required a design that would prevent damage during a seismic event, while keeping the plant fully functional as a critical facility to the community.
Solution:
Aggregate piers were initially considered for ground improvement. However, this method was deemed prohibitive due to the large number of aggregate piers that would be needed to prevent overloading or bulging of the elements. Menard provided a more economical and time saving solution with the installation of CMCs to support the building's foundations. Approximately 4,000 CMCs were installed to an average depth of 23 ft and a maximum depth of 40 ft. Menard designed a layout of CMCs at each footing to support column loads up to 2,000 kips – along with several feet of net fill that was placed to bring the site up to grade. The design provided for 1 in of post-construction settlement with a ½ in of differential settlement, meeting the performance criteria of the new facility. The slab loads were designed with an allowable bearing pressure of 8,000 psf.
The client insisted on an accelerated schedule, which required significant collaboration with the entire project team. Menard worked closely with the structural engineer to adjust the ground improvement design when foundation plans changed. This included several revisions after ground improvement construction had begun. To perform accurate CMC cutoffs and to accelerate installation, Menard worked from a lower elevation to install CMCs beneath the deeper perimeter foundations. This led to challenges due to working closer to the soft soils at the site. Menard communicated any potential soft spots to the earthwork team to ensure softer areas were remediated and that a safe working platform was provided. Notwithstanding the schedule and design changes, Menard installed 4,000 CMCs to support very heavy loads for a new warehouse in Markham, IL.